Bay Dynamics NZ was born out of the need to bring advanced ROV abilities to clients who otherwise could not access them. Our portable systems are easily transported and set up by our team on land or at sea (or in the air, via helicopter deployment). We design and build ROV systems and underwater related equipment for not only our own operations team but also for client requests. Our team has the certifications, experience and expertise you need to get the job done.
WE ARE EXPERIENCED
---
Our crew are all experienced in a wide range of operations, drawing the majority of our experience from the highly technical and complex offshore Oil & Gas ROV industry.
WE ARE CERTIFIED
---
Our crew are certified to undertake a wide range of operations. We also employ a full time certified and registered 3.4U+C Underwater Inspection Controller for any professional inspection works needed.
WE ARE CURRENT
---
We are committed to always staying up to date with the latest industry procedures and recommendations.
ZERO-HARM SAFETY OPERATION
---
At Bay Dynamics, we are committed to the health and safety of our team. When you engage us, you will quickly come to appreciate that best practice health and safety is at the forefront of what we do at all times (this means pre-operation in terms of safety checks, during operation, and post-operation).
Meet our Key Team Leaders
Our certified team is highly experienced and New Zealand qualified; Matthew Mooney as an Engineering Technician and James Bassett as an Electrical Engineer.
Together, we have many years national and international experience in ROV engineering and operations in the oil & gas, energy and shipping industries. In addition, Matthew has served as an Electronic Technician as part of the NZ Defence force.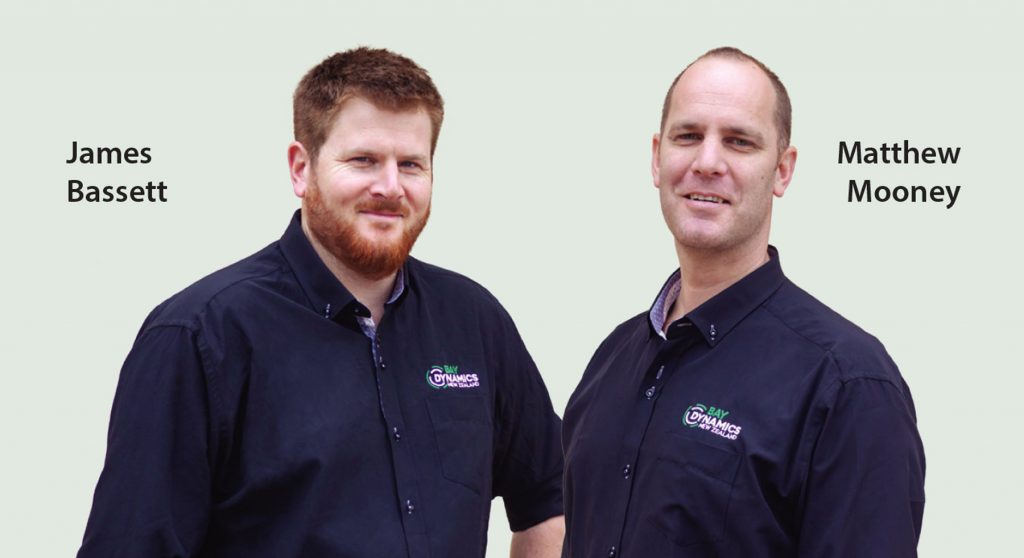 James Bassett
BE(Hons) in Electrical Engineering at the Auckland University of Technology
BE(Hons) in Computer Systems 2nd class honours 1st division, University of Auckland
IMCA Guidelined ROV Senior Pilot Technician
8 years Offshore ROV Operations
OPITO – Basic Offshore Safety Induction & Emergency Training (BOSIET)
MTCS – High Voltage Safety Competency Certificate
Matthew Mooney
NDE in Electronics
New Zealand Army Electronic Technician Apprenticeship Certificate
IMCA Guidelined ROV Senior Pilot Technician
8 years Offshore ROV Operations
CSWIP – TWI – Underwater Inspection Controller w Concrete, 3.4U+C Certification
OPITO – Basic Offshore Safety Induction & Emergency Training (BOSIET)
MTCS – High Voltage Safety Competency Certificate
"We are pleased to offer you many years of national and international experience in ROV engineering and operation.  We have worked in many industries including oil & gas, energy and shipping – plus Matthew has served as an Electronic Technician as part of the NZ Defence Force.  When it comes to the designing, building and operation of ROVs, we have experience in almost every application. We invite you to put us to work – we know you won't be disappointed."